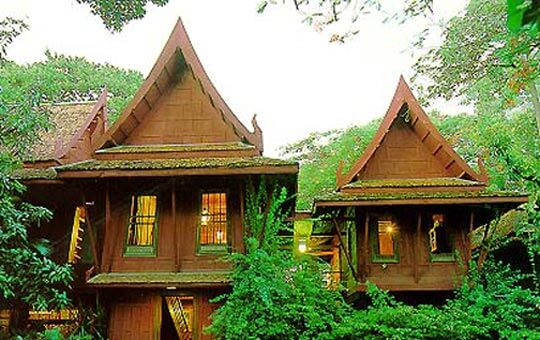 The Jim Thompson House, which is ranked as one of the most loved attractions in Bangkok city, stands as an historical architecture model while its small but distinct art collection serves as a museum. Jim Thompson was the American who created the silk industry in Thailand after WW II and he is considered to be one of the most legendary Americans in recent Thai history.
Customer feedback – "We visited the Jim Thompson House on the suggestion of our private tour guide. Very impressed to find something like this in Bangkok and it was nice area to rest from the midday heat. Definitely recommend to others."
The complex of homes was completed in 1959 and consists of several antique Thai homes and structures that the American businessman purchased on trips to Bang Krua and the city of Ayutthaya. As Thompson was building his silk company in Thailand, he also became a major collector of Southeast Asian art. He built a large collection of Buddhist and secular pieces that were purchased from Thailand, Burma, Cambodia, and Laos in the 1950s and 1960s.
Jim Thompson House is listed as one of the seven MUST SEE museums in Bangkok. The other museums on the list are:
The Jim Thompson House is situated beside a canal and surrounded by a jungle landscape of palm and banana trees, and numerous flowers and plants from the region. The house is built according to traditional Thai home characteristics, featuring inward leaning walls to make the house appear taller and giving it a regal look.
Customer feedback – "Very interesting enjoyable experience. My personal favorite. Guide was fun and knowledgable."
A tour of the Jim Thompson House allows visitors to take a step back in time to see the art and life of Southeast Asia from the perspective of the eccentric businessman who brought the beauty of Thai silk to the world.
Another attraction in the same area as the Jim Thompson House is Bangkok's Golden Mountain (Wat Saket).
The Jim Thompson House is open every day from 9am until 6pm. Last guided tour begins at 6pm.
Admission Price: 200 Baht per person. Fee includes 30 minute guided tour of the home.
Things you should be aware of when visiting the Jim Thompson House:
Photography is not allowed inside the house itself, but you can take pictures everywhere else in the complex.