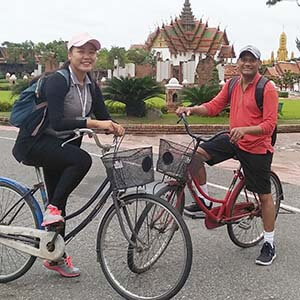 This review was originally sent to us my Email
I had Apple as tour guide for four days (1 day in Bangkok, rest outside).
All I can say is it was one of the most memorable trips I've had in 20y of travel in 35+ countries.
Apple was ultra knowledgeable about each and every aspect of Thai history, sites, and of course everyday life. She was funny, open to feedback, and customized things on the fly.
Tour guide par excellence – From adhoc request to chat with a monk (she interpreted for a good 20mins) to eating 2$ street lunches to coordinating all aspects for minimum wait times.
On day 1 itself I asked to throw away what was planned and she didn't blink – came up with a very cool set of things to do and off we went. As a single person doing this, one might think it's expensive – all I can say is, if you can afford it, there is no better way.
Apple showed me not just what's there but her personal favorite sites. Not just favorites – she explains why and you'll get into the moment – from teaching me to meditate while walking in a temple to slowing down and feeling the depth of Kwae.
After facebook posts, a friend who's been frequent visitor to Thailand for 20y and married a Thai lady said he hadn't been to some of the places I mentioned.
If you haven't done it yet, go YTG. And if you do, please insist on Apple.
Superb command of English, super friendly, super knowledgeable, just an awesome person.